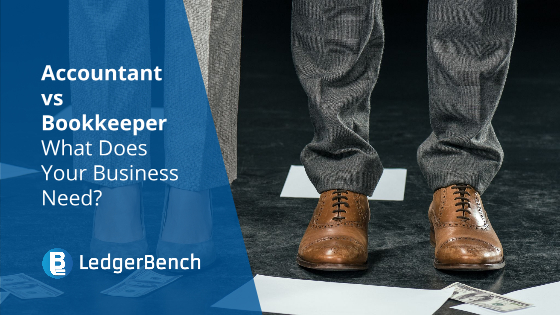 The financial tasks of a business are handled both by bookkeepers and accountants, yet, when we are required to outline the differences between the two, it generally is a hard one. The fact is, that their goals and ambitions for the business are the same, but the way they achieve them are different. In a simple sense, bookkeeping is primarily concerned with transactions while accounting deals with the insights that are drawn on the basis of the information obtained through bookkeeping.
If you are a small business owner and are wondering, "how exactly are the two different?" and what is the right choice for your business, then you have come to the right place! In this blog we will outline all the differences between an accountant and a bookkeeper and how each benefits and adds to your business.
What is Bookkeeping?
Bookkeeping as a Financial task in a business, records the daily transactions that occur in a business in a standardised and regularised manner. It forms the base for any other financial function of an organization. Their tasks include:
Recording Financial Transactions

Assessing the Debits and Credits of a business

Generating invoices and handling a business' receivable funds

Maintaining the General Ledger

Organizing and administering payroll
Out of all the tasks mentioned above, maintaining the general ledger is of the prime importance. This is where all the transactions are recorded. How dynamic and complex an organization's bookkeeping is, is primarily dependent on the size and stage of operations that business has. 
What is Accounting?
This is the advanced financial task that works on the information and insights provided by a bookkeeper. This information is then used to draw future budgets and forecasts and other such financial models. Some of the tasks that are primarily typical to accounting include:
Reconciling and entries that are mistakenly omitted. 

Financial Preparation statements, records and reports.

Analyzing operational costs

Completing, preparing and filing tax returns

Draw the financial blueprint of a business.
It is an accountant that draws the key financial indicators of a business and determines an analysis of the cash flow. 
Therefore, it is an accountant that takes the information in the General Ledger provided by the bookkeeper and takes it forward to the larger insights drawn through those recordings. Where bookkeeping ends, accounting begins.
Accountant vs Bookkeeper
The work of an accountant and a bookkeeper are often seen to be overlapping. In fact, some can say that bookkeeping is a sub-task of accounting only. The only difference is that bookkeeping is a financial operation that needs to be undertaken on a daily basis and is regularized. Therefore, it is imperative to do it in its regularized manner. Only, when this is done accurately, can an accountant work on the information provided by the bookkeeper.
| | |
| --- | --- |
| Bookkeeper | Accountant |
| Records the financial transactions that occur in the business.  | Work on the financial transactions recorded to provide broader insights. |
| Recording the debits and credits of a business. | Curates the financial statements, records and reports. |
| Generates invoices, sends them ahead and tracks payments. | Prepares taxes and files them. |
| Maintains the general ledger. | Uses the general ledger to prepare financial analysis and strategy to support the business. |
| Administering Payroll | Administering Tax strategies |
| Determines where a business is standing. | Determines where a business is headed to. |
| Financial record keeping in a business | Financial forecasting and overall financial administration of a business.  |
What Do You Need For Your Business?
Now comes the burning question. What do you need for your business? An accountant or a bookkeeper? Before you ask yourself that, try assessing answers to the following questions:
What industry is your business in?

How large are your operations?

How many employees does your company currently have?

What is your business' goal?
Why these questions are necessary is to make you understand where your business is currently standing and where it is headed to in the future. Now, the fact of the matter is that a bookkeeper and an accountant are co-dependent and cannot exist without one another. Additionally, it is always a perk to have a team that can handle both. Not only does it help save costs, but it also leads to better accuracy, more coordination and an overall synchronization of timely deliveries and compliances. 
Another lucrative option that businesses have these days, is the option to seamlessly integrate the tasks of an accountant and a bookkeeper, by outsourcing these activities to a bookkeeping service provider. What your business thus gets, is:
A team of expert bookkeepers and accountants.

Someone who can handle both administrative tasks like payroll and financial tasks like taxing effectively.

Increased cost and time savings.

Savings on overhead and operational costs.

State-of-the-art accounting technology and tools.
Now is the time to get better control of your business' financials by outsourcing it and gaining the expertise of industry leaders. No matter the stage and size of your business, it is never too late to have the professional support of ace bookkeepers and accountants on your side.