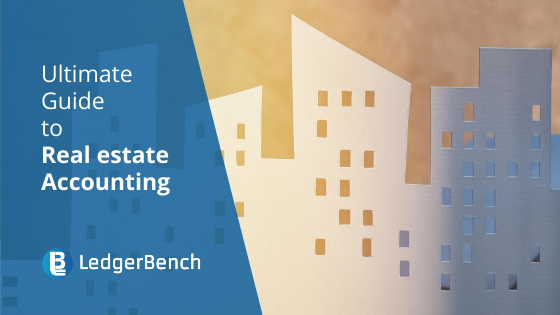 The 'Bottom Line', 'Numbers', 'Sales' are some entities that are self-explanatory in any business. Especially when it comes to real estate, the number of properties sold successfully and an impressive sales record are enough to reflect the business. But, all of this is true if their is uncompromising accuracy, vigilance and standardisation in the numbers presented and their credibility. Which is where experienced accounting comes in the picture. Showing a promising real estate practice on the basis of inaccurate books can be a bane for your business and can tarnish your image in the industry as well as with your clients. 
In this blog, we will talk about the common real estate accounting mistakes that your business needs to avoid in order to get through the tax season seamlessly. If you are cautious to dodge these commonly encountered errors, then not only will your books be accurate, they will also be dependable and actionable.
Mistake No 1: Realigning Funds Before the Transaction is Complete
This is a very common business error, if we may say with property and real estate accounting. The entrepreneurs are seen to be disbursing the funds before the deal is closed. This not only is a malpractice, but at the time of doing the books, is an additional wastage of time for your bookkeeper, as they need to go back and check the completion and the authentication of each transaction that you have made. In accounting terms, a transaction is considered revenue and can thus be acted upon only when the chain is complete, in real estate terms, it is when the keys are finally exchanged. 
It is important for real estate entrepreneurs to keep this in mind at all times while confirming a transaction to be a revenue or before its disbursement. So that, your Accounts Payable are accurately aligned with your Accounts Receivable.
Other Blog – IRS Tax Relaxation Deadlines for Covid-19 (With State Regulations)
Mistake No. 2: Tracking Commissions Additionally From an Accounting Software
When your brokerage is tracking commission additionally and alternatively from the main accounting software that you are using, then you are backing up on age-old data entry to pay those commissions. Honestly speaking, this redundant data entry puts you at a greater risk, with your books being rampaged with human error and threats. 
Ideally, using accounting software or any accounting technology is a matter to make things simpler and more convenient. Therefore, you need to have a commission management system in place that can seamlessly integrate with your accounting system and help make things more convenient for you. 
Mistake No. 3: Insufficient Training of the Accounting Software
If you have an in-house or a local accountant, who you are presuming will be on track with the technological developments and has a proficiency in the accounting software of your choice, then you might be going far-fetched. The idea is that you need to have someone who is an expert and a thorough professional when it comes with dealing with your accounting tools so that bookkeeping is an easier and more convenient feat. If you take it into consideration, having someone who is not-well versed and trained in these tools, will not be able to optimize the efficiency of the same and might make errors. Therefore, it is essential to have someone who is trained and has a smooth knowledge of state-of-the-art accounting tools and technology, especially the ones preferred for use by your business.
Mistake No. 4: Not Taking Backups
This is a mistake that cannot be stressed-on enough. If you are an entrepreneur, then you need to know gone are the days, when people had stacks of paperwork in physical form, that they could go back to and tally whenever needed. This was not only time consuming, but took a lot of space and was adept with errors on all levels. With the coming in of the right accounting technology, you need to save time, effort and error. Taking backups of your data is ever-important so that you have securely kept all your essential financials readily available whenever needed. Real estate businesses are generally seen to lack in this imperative feat. 
Real Estate is an exhaustive and a challenging field. You need to constantly be at your alert-best and on your toes. But the accounting part of it, need not be that dreadful if done the right way. Being on the right road of accuracy, having a dependable team that backs your efforts and avoiding these common accounting mistakes can help you keep up with your books and also get through the year-end stress-free. We hope this blog will help you highlight some common errors, and avoid them in your future accounting journey.