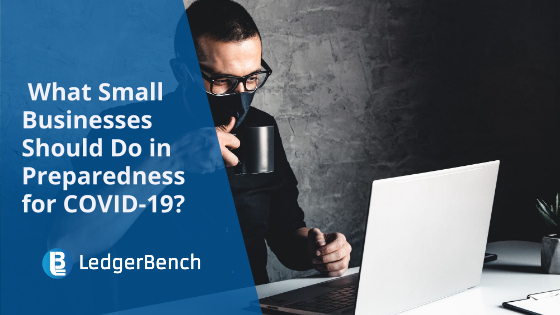 Everything was running smooth until December 2019. But the unannounced arrival of COVID-19 was a shock for everyone. Businesses as well as individuals didn't even have the time to prepare themselves for the crisis. Before businesses could prepare themselves to respond against the pandemic, lockdown was forced in all the major economies in the world, sending businesses at the backfoot. The most affected are the small businesses that didn't have efficient mitigation plans and exit strategies in place.
However, it has been more than 6 months since the first Corona positive case surfaced and since then, the global society as a whole has both learned a lot as well as adapting to what seem to be signs of a new normal. Same goes with small businesses that are slowly and steadily picking up
Suggested Read – Ways to Maximize your Tax Benefits During Covid-19
Educate your staff
The first step that small business owners need to take in preparation of the COVID-19 is keep themselves as well as their staff well-educated, afterall each individual needs to contribute in  this fight against the pandemic. Stay away from rumours and look for trusted news sources. Here are a few sources you and your staff can rely upon:
Strengthen remote working culture
During these tough times, remote working culture has come up as a saviour for businesses. While social distancing and lockdown were in full force, it was remote working culture that has saved businesses from perishing. Working remotely has already shown its true potential and its time business owners fully incorporate a remote working model into their existing  business model. From offering funds to set up a home office to reforming your current work policies, this should be definitely on every business owner's priority list. 
Leverage Technology
Technology can do wonders especially when leveraged wisely. The ongoing pandemic has showed us the wonders of the techade. From working remotely to marking your presence via cloud-based systems, it is technology that has been backing businesses during the times of crisis. From Accounting to managing client relationships, small businesses need to understand the urgency of rapidly infusing technology in every sector of their business process.
Encourage healthy workplace hygiene
Charity begins at home and so does the fight against the COVID-19. Try to adapt to the remote work culture as far as possible but in case you have a few employees coming over for work on a regular or shift basis, make sure the workplace is properly sanitized. Consider conducting in-person check up whenever an employee or a client enters the premises. Practice social distancing norms and don't call all your employees regularly.
Suggested Reads – How to Get a Small Business Disaster Loan During COVID-19
Develop Mitigation Strategies
If you are reading this it means your business has survived the first-wave of the pandemic and its time to move ahead with a plan. Hire a certified accountant if possible to study your current financial position and plan future growth strategies accordingly. 
Build a strong communication channel
While most of your employees are working from home, make sure there is an efficient and centralised communication channel in place so that both employees and clients can coordinate amongst themselves as and when needed.
Conclusion:
Preparing your small business for the COVID-19 is simple and all that is required is 'Adaptability'!!