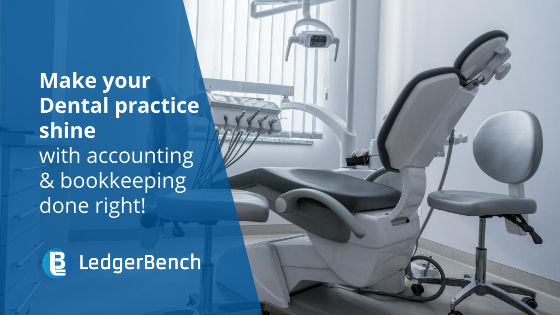 No matter the field of business you are in, the challenges and competition are at an ever-high. With the changing dynamics of the market, it is important to have a clear strategy for your business management, accounting advisory and bookkeeping schedule. If you do Dental Practices, and are looking for ways to organize your accounting and bookkeeping practices, then you have come to the right place. 
Healthcare is a growing industry and Dental Practices form a core of that. Being a part of this complicated business environment thus requires impeccable accounting and bookkeeping patterns, so that you can benefit from the accurate and dependable numbers to sustain and expand your business in an informed manner. 
Here are some of the essential tips and tricks that can make your dental accounting practices shine! 
Tip No. 1: Introduce Cost Cutting
Now, there is no rocket science to how this as a step in itself makes your profit margins fatter! It is important that you sit down with your accountant and assess the areas that are dispensable and where you can optimize your costing. Cutting these extra expenses will help you organize your actual required costs much better.
Doing it yourself, is not the way to go! Having a professional who can assess these arenas see where there can be a deduction of taxes, or reduction in equipment & medical costs can be done.
Tip No. 2: Ensure that You Know Your Accounting Basics
As we said in the tip above, bookkeeping is not a task that you should reserve for yourself in your busy dental practice.. But having said that, it is still necessary for you to have a basic knowledge of accounting terms and practices, so that you are not completely detached from what is happening with your books and can absorb accounting advice fully. A simple thing like knowing the difference between profit and cash flow is important. Where lack of cash can lead to a deficit in funds to undertake your daily operations, your profits are the excess of funds left, after you have met with all your expenses. When you have a proper knowledge of terms like these, you are able to avoid confusion and losses. 
Tip No. 3: Seek Assistance from an Accounting Software
Accounting has become more streamlined and organized with the accounting softwares that are there to make the job easier. Having the right accounting software for your business, can help you and your bookkeeper communicate in a transparent manner, help you keep all the financial information you need in one place, and make the loss or theft of data impossible. Save time and gain efficiency by having the right balance of a modern accounting software and a bookkeeping team that knows the industry accounting needs of your business.
Also Read – 10 Ways Your Bookkeeper Can Help You Through Covid-19
Tip No. 4: Have and Accountant Who Knows Your Business
Accounting is a universal knowledge, its basics remain the same wherever you go and whatever you do. But what does change, is the way you apply its principles to maximize your client's benefits. Especially in a dental practice, where no matter you have a stand-alone practice or a chain of clinics, having an accountant who knows your business and its industrial needs to the 'T' is necessary. This significantly reduces the chances of errors and is successfully able to handle your business efficiently.
Tip No. 5: Organize Purchase Costs
Dental Practices are required to stay modern and up-do-date with the latest medical technology that is there in the market. By default, it makes the largest cost bracket of your practices, therefore you need to pay extreme attention to it. Sitting with your accounting and analyzing these expenses to understand how you can optimize them and maximize the benefits from your expenses is a must! 
Tip No. 6: Check for Internal Issues
If you are to take care of your business, and there are some people in your organization who punch in daily transactions before it goes to your bookkeeper, chances are that there can be errors, or potential frauds. It is important for you and your bookkeeper to keep a vigilant eye on all such practices, so that you can be safeguarded from any such financial threat and malpractice.
Dental practices are ever-important and one of the leading professions globally. With the volume of work it has, keeping up with its bookkeeping and accounting needs is also necessary. Keeping a tab on necessary accounting principles and the primary do's and don'ts help you assess your business model better and make necessary alterations for increased profits and decreased errors. Having the right accounting team who understands the needs of your industry is the first step in that direction of accounting efficiency and an enhanced financial health.