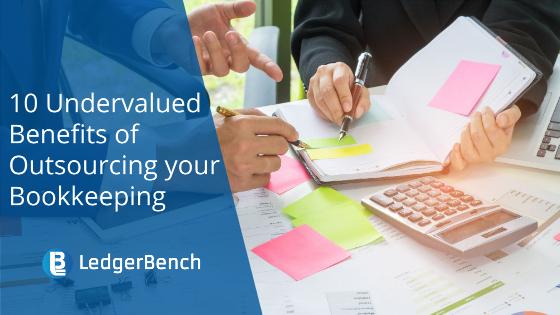 Outsourcing your bookkeeping services has never been so accessible and compelling than it is today. The introduction to new technology, cloud computing has changed the way we do business today. The common reason small businesses neglect their financial accounts is time and cost. They have neither time nor knowledge to carry out necessary bookkeeping tasks themselves. Yet they are reluctant to either outsource bookkeeping services or burden their business with in-house bookkeepers. 
Bookkeeping is essential for all sizes of business but it's also time-consuming. Delegating tasks to a qualified bookkeeper helps focus on the core mission of your business. Outsourcing bookkeeping services can help you save time, money alleviates the hassle of managing books. 
The undervalued benefits of outsourcing your bookkeeping are:
The value of service-based bookkeeping:
Using an outsourced bookkeeping service doesn't mean buying software and working the system yourself. The human factor and customer service provided is what creates a dynamic working relationship between your business and your bookkeeper. Bridging the gap between people and software is a great business model and something you should consider when selecting an outsourced service.
Saving time and money is just the beginning:
Outsourcing services helps you to offload your financial accounts burden to a professional bookkeeping company that can save you both time and money. You will generally pay less to an outsourcing firm than you would to your in-house bookkeeper or part time employee on the company payroll. This will lower your administrative work and you can focus more on growing and sustaining your business. You will also save on lost productivity cost that comes along with hiring employees onto the payroll. When you outsource you only pay for what you need- nothing more, nothing less.  
When you outsource bookkeeping services, you are at an advantage of expertise and better knowledge at your disposal. They are experts who stay updated on all the pertinent financial details so you don't have to worry about anything. You will learn more about your business and have access to expertise advice. They are proactive and may offer you advice that can affect your overall business operations thus saving you time and money both. It will give you peace of mind that's often associated with business obligations as government remittances, annual tax returns, ever-looming possibility of an audit. 
When you outsource bookkeeping services, you get benefit from the combined diligence and experience of a team of professionals. Some things that may be neglected or go unnoticed by your in-house professionals are far more likely to be spotted and dealt by the group effort that is consistently applied by outsourcing firms. 
Your business might not be able to afford the latest accounting tools and softwares, but your professional outsourced bookkeeping firm can. Regardless of the cost, professional firms tend to invest in the latest technology to provide the best possible services to their clients. When you outsource bookkeeping services you tend to reap all the benefits provided by top level accounting systems without having you invest and maintain them yourself. This top level system creates nightly backups and keeps records organized for years, ensuring that if the IRS does come knocking for an audit, you'll be more prepared than ever. 
Wearing and assigning multiple hats in small business can be a hard reality to grow business successfully. Trying to perform bookkeeping services amidst other responsibilities may result in incorrect data entry, reporting or any other missed data altogether. But with outsourcing bookkeeping services, the keeper is focused exclusively on financial accounts, ensuring timely and accurate results. 
Full scalability is the biggest advantage when outsourcing your bookkeeping services meaning the flexibility it provides in scaling your business. When you make wise decisions to outsource, it means you can expand and cut back on growth and expenses when and where you see it. Outsourced firms help you to make the best decision for your small business by providing real-time access to facts and figures at any time possible. Saving time = gaining new clients and growing your firm. 
When outsourcing bookkeeping there is no threat regarding employee access to critical data and the information can be stored electronically. You should also ask your prospective virtual bookkeeper if they log into secured servers and if there is proper monitoring of the dissemination of data. You can ask outsourced firms about security features to protect against third parties and to limit access to your self or key members of your business. 
Companies that use virtual bookkeepers are more successful in growing their business, generating higher margins and increasing revenue. Outsourcing dramatically increases the scalability of options of our business. Whether your business is in growth mode or cost reduction state, the outsourced team can provide you with different plans and best options to achieve your goals. 
Audit and tax preparation:
Compliance and audit preparedness will give you peace of mind that will help you sleep better at night. Bookkeeping firms are always working on your books so that you are prepared fully for the tax cycle or ready for any kind of audit that may come your way. In terms of accounting, this means that someone is making sure a company's financial matters are handled following federal laws, state laws or local tax laws and regulations. 
The bottom line:
Outsourcing bookkeeping services allows you to leverage modern technology and increase scalability of your business. It is a sure way to increase firms profitability and sleep better at night. We provide Bookkeeping Services for Small Business and would be happy to provide you too. Get our team of experts to do your bookkeeping and spend all your extra time more productively.