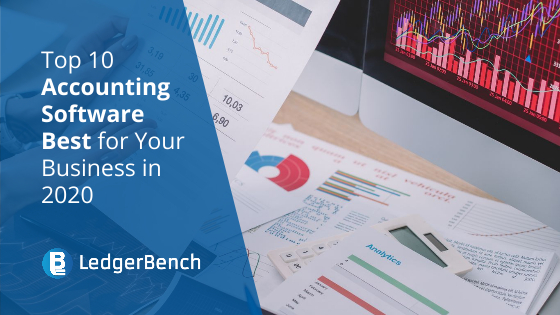 The ultimate goal of any business is to increase their financial health and profits. To ascertain this goal, it is important to keep a regular and accurate tab on the financial position of the business. As we all know, maintaining the accounting records of a business is a mammoth task and involves huge operational logistics, never-ending ledger entries, and complex transactions. Therefore, having a healthy and standardized Bookkeeping and Accounting ethic is important to run your business' other core functions effectively.
Accounting Softwares are your answers to doing all the above-mentioned tasks with finesse, accuracy, expertise, and time effectively. In the current times of running a business, accounting software is now an integral part of your bookkeeping logistics and automates the process of maintaining accounts by eliminating the need for time-consuming manual entries.
List of top 10 Accounting Softwares:
They can escalate your business' operations and make them smooth and stress-free.
If you are looking for an accounting tool that is seamless, fast, organized, and generates comprehensive data, all in one, then QuickBooks is your pick. This modern accounting management tool is good for users whether they are beginners or professional accountants. It is packed with powerful features like:
Invoicing

Banking

Easy Dashboard

Sales and Inventory Tracking, etc.
You can create custom professional invoices and have a completely integrated banking feature that updates your statements and transactions automatically. Get a real-time 360-degree view of your business' operations from anywhere!
The purpose of FreshBooks is to help you carve business decisions on the basis of actual business insights and important financial data. It helps you get access to all accounting functions in cloud-based accounting software, so that you have everything you need, anytime and anywhere. Its a spectrum of usage goes from basic accounting functions to more complex operations like custom invoicing, expense management, and administering Payroll Services. FreshBooks is dynamic and scalable accounting software and it grows as your business grows. 
If you are using Windows 10/8.1/8/7 and need accounting software, then Sage is the top choice on the market. No matter what your business and accounting goals are, Sage adapts itself to suit and fit your needs. You can manage your books and then extend the data on the cloud for ready availability anytime and anywhere. There are additional options of Sage Live and Sage X3 so that you can always be in tandem with the needs of the customers. The only downfall of sage is that it involves a decent learning curve and it is not something that can be readily grasped by beginners.
If you want to surpass just having an accounting software and need a complete business solution that not only streamlines your business but makes the management simpler, then Tally is the right choice for you. This accounting software is an all-rounder when it comes to a user-friendly interface, versatile businesses, key accounting features, business management capabilities, budget management abilities, and prompt banking functions. All your operational needs are taken care of by single accounting software. There is a high-grade data encryption and backup facility with a very simple installation procedure. 
Wave is cloud-based free accounting software that is also one of the main choices of freelance accountants. But as it is free, its main downfall is that it has limited features, no app support and is not suitable for large businesses. However, if you are just starting up, or need to see how accounting software works, then it has key accounting features in its kitty. You can connect bank and credit cards, receipt scanning, invoicing and elementary bookkeeping and payroll functions to start your journey of using accounting software. 
Zoho Books too is an all-in-one accounting solution for your business. Be it expense tracking, comprehensive and detailed reporting, banking functions, and spending management, Zoho books can do it all. Its core functions include the key accounting operations and it is ideal for small businesses. Although, we do not recommend it for large businesses as it is cloud-based and does not have effective desktop integration as well as lackluster payroll functionality.
The NetSuite ERP is a cloud-based accounting software that is designed to meet the needs of dynamic and fast-growing SMEs. It automates key accounting processes like inventory management, revenue management, order management, and key functions like accounts payable, accounts receivable, general ledger, tax management, etc. 
This accounting software is trusted by millions of organizations globally to streamline their accounting requirements and also for its seamless integration with CRM, inventory, and order management tools. You get an audit trail visibility, financial planning, payroll management, and flexible invoicing amongst many excellent features of the NetSuite ERP.
SAP is an accounting software helps simplify the global accounting functions and makes it fast, accurate, and seamlessly automated so that you can continue to run your business operations without any worry. It is easily expandable and dynamic, it can synchronize with Microsoft applications like Word and Excel and is complete with basic and simple data sharing. The only cons that SAP has are that it has a complicated and time-consuming initial set up and often requires third-party support and additions to achieve its full experience.
Dynamics Accounting Software


---
Dynamics 365 is a product of Microsoft's many competent software offerings. It automates operations wherever possible and organizes maximum accounting functions with minimum time management requirements. It is packed with quite a punch with all the basic software functions already in place like invoicing, payroll, payables, and receivables. It is built for big businesses and offers comprehensive industry-specific accounting solutions.
With over 2 million installations worldwide, Busy is the perfect accounting software for micro, small and medium-sized businesses. Its popularity is a result of the business tools and comprehensive accounting functions that it is packed with. It is based on excel functions and has a wide range of video tutorials available to be accessed from even the most remote locations. 
Choose What Your Business Needs:
Every business has differing accounting needs on the basis of the industry you are in and the size and stage of your business. This blog gave you a review of the top 10 accounting software in the business and their unique strengths and functionality. On the basis of what your business needs and the scalability requirements of your organization, you can choose the accounting software that is the best fit for you. After all, the right accounting solutions will help you save time, money, and increase your accounting efficiencies so that you can run your business without any worries!